We haven't talked about the Twins for a while in Hooks, Lines, and Sinkers. . .pitchers and catchers report on Valentine's Day, by the way. . .so let's give them a little love here.
↵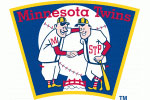 ↵
See that logo right there? The really, really sweet one of Minnie and Paul shaking hands across the Mississippi River that shows the relationship between the Twin Cities?
↵
According to ESPN baseball writer Jim Caple, that's the second-best logo in baseball, behind only that of the New York Mets.
↵
Caple admits that he's cheating a bit, since that's not the Twins' "official logo," but we're willing to forgive him for that, if for no other reason than. . .well, that logo is awfully sweet.
↵
(Hat tip to Michael Rand at the Star-Tribune for pointing out this story.)
↵